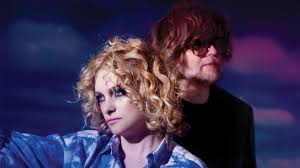 Looking for a band that is conscious of not repeating the same formula on album after album? Goldfrapp is an English duo who is hard to describe in a one or two-word genre. The duo has been active since 1999, and has toured all over the world. Why do people come to see them you ask? Their music is awesome. Here are 5 reasons to press play on Goldfrapp
Their music is constantly evolving. The band started out as traditional electronic music, and have moved through genres ranging from synthpop, to glamrock to folk.
Band members are multi-talented. Band member Will Gregory is also a photographer. The packaging for the latest album Silver Eye, was shot by Gregory.
They play an active role in directing their own videos. The band says that when they direct their own videos they get a true representation of their vision. Check out the self-directed video "Anymore".
The band introduces symbolism. The central symbol(theme) for the album is the moon, and this because the band finds the moon to be a comforting reminder that something can go untouched and unaltered by man.
Goldfrapp members make person sacrifices to bring us awesome tunes. Frontwoman Alison Goldfrapp doesn't like the idea of fame. She says that artist are often private observers. She says they sit away in studios creating things about other people.
Be sure to press play on Goldfrapp